An Incredible Attitude | 1, 2, 3, 4, 5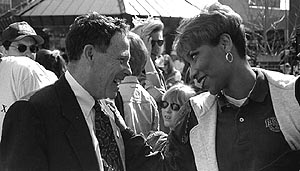 Hindman chats with a member of his race-relations committee after the Moo Dah Parade
Moo Dah Mayor
It's the afternoon of Saturday, April 13, 1996. The Moo Dah parade is coming to a close and the award ceremony is set to begin any minute at Boone Tavern.
Several blocks away, in the parking lot adjoining the downtown fire station, Mayor Darwin Hindman is standing next to his white Mazda Miata, wearing only boxer shorts, a T-shirt and dress socks. He's changing into a suit for the parade's award ceremony, and I have just happened to catch him in the act.
Even though he is the one with his pants down, I think I am more embarrassed than he is. After catching sight of him, I back off and mumble a "oh, I'm sorry."
But Hindman just smiles and says, "oh that's OK." He proceeds to put on a blue oxford shirt over his T-shirt and asks if I will stand guard while he finishes dressing.
Even though I have a camera with me, Hindman makes no move to hurry. He even answers a few questions as he buttons his oxford and pulls on his suit pants.
Other politicians might have been angry or embarrassed by such exposure. But Darwin Hindman, 63, is not your typical politician. Instead of being angry, he just takes it in stride and with a smile.
Very little about Hindman's physical appearance is distinctive. He looks like an average middle-aged man: He has a kind of plain face, brown, wavy hair and a curve in his belly.
He is a short man. In fact, Axie, his wife of 36 years, says that on their first date – a blind date – she "took one look at him and went back upstairs to get some lower shoes."
But Hindman's height is not what most distinguishes him. Rather, it is the smile he flashed in the parking lot, a smile that seems to be with him nearly everywhere.
That smile—and the optimism it represents—is central to Darwin Hindman the person. His son Skip Hindman puts it this way: Darwin Hindman has "an unwavering cheerfulness that borders on being unrealistic."
Although his good cheer might be unreal at times, Hindman's life is grounded in the real world of everyday things.
That Saturday of the Moo Dah parade was a busy one. Hindman's day started off with an 8:30 a.m. appearance at one of the local elementary schools. From there, he went to Rock Bridge High School, where he participated in the opening ceremonies of the mid-Missouri Special Olympic games.
Good cheer--no matter the weather
After the opening ceremonies, Hindman made several phone calls from his law office, attended a friend's funeral and met some Hickman High School students at Hinkson Creek, where he helped them clean up litter in the stream.
After the award ceremony for the parade, he had another funeral to attend and then planned to go out to dinner with Axie and some of their friends.
All of this might be expected of a big-city politician, or a member of Congress. But Hindman's position is a little different from those of other elected officials. As Columbia's mayor, he works for free.
Despite not being compensated for his efforts, throughout the day, Hindman maintained what Skip Hindman calls "this incredible attitude." He smiled, joked around, talked with friends, shook hands and introduced himself. Despite the funerals he had to attend that day, he never appeared to be down or low; instead, he marched through the day, engaging himself in each event.
Skip Hindman says he often saw—and was sometimes frustrated by—his father's good cheer when he was growing up.
"I remember in almost every situation," Skip, 30, says, "no matter how hopeless or how unpleasant the circumstances, he had this incredible attitude. Sometimes it would drive my sister and me crazy – we felt entitled to complain."
The Hindmans spend several weeks each summer at a cottage they own in Minnesota. Skip says the trips he took with his parents to the cottage when he was younger provide good examples of his father's optimism.
"His weather predictions (for those trips) were always ridiculously optimistic," he says. But even when the weather changed, his father maintained his good attitude.
"He seemed to take pleasure in it," Skip says. "He would say, 'these are the kind of trips you remember.' And you do."
---
Reporter: Troy Wolverton
Photographer: Troy Wolverton
Web Producer: Troy Wolverton
Published: September 18, 2002